hand made with love

hand crafted gifts
made with love
Hand Crafted Glass, Glass Jewellery, Glass Pictures, Bespoke Glass Art, Lampwork Glass Beads, Unique Glass Designs, Glass Gifts, Fused Glass, Kiln Fired Glass, Stained Glass, Leaded Glass Panels, Leaded Glass Sun Catchers all made by Glass Artist :  Lorraine Ireland
Hello my Dear Glass Loving Friends
I have always been very creative and have tried working with many media over the years, but my undoubted favourite is Glass, because working with glass is a magical mystical experience which brings about Alchemy.
Although the artist has a certain degree of control when working with glass, the glass demands its own freedom of expression, almost as if it has a sub-conscious mind of its own.
I am also a Psychotherapist and Hypnotherapist, so working with Glass is the perfect partnership for me as I often go into a trance connecting with my subconscious mind to creatively express and have a mutual trust and respect that my creation will be enhanced by the final say of the glass.  I love the element of surprise that is the gift that glass contributes.
"Within every piece that I make, I always welcome creative flow which often surprises me as it appears to come from beyond the 6 senses, hence all of my work is made from the source of Pure Divine Love, Flow and Creative Expression.  Each creation is unique, bespoke and none identical to any other."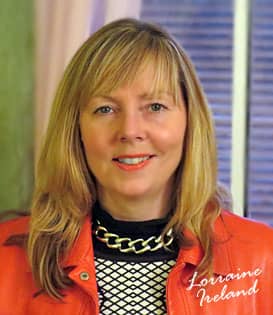 I design and make Lamp Work Beads, Jewellery, Fused Glass Creations, Leaded Glass Designs, Leaded Glass Panels and Glass Light Catchers.   I work in my own Art Studio with a Lampwork Torch where I melt glass rods in a flame.  I draw my own designs, cut the glass to specification and fuse in one of my 2 Kilns.  Every piece is annealed in a kiln to strengthen the glass for everyday use.
Much Love
Lorraine Ireland
.